Advanced Magnetic Bands for Cows & Bulls
MOO StreamZ
BANDS™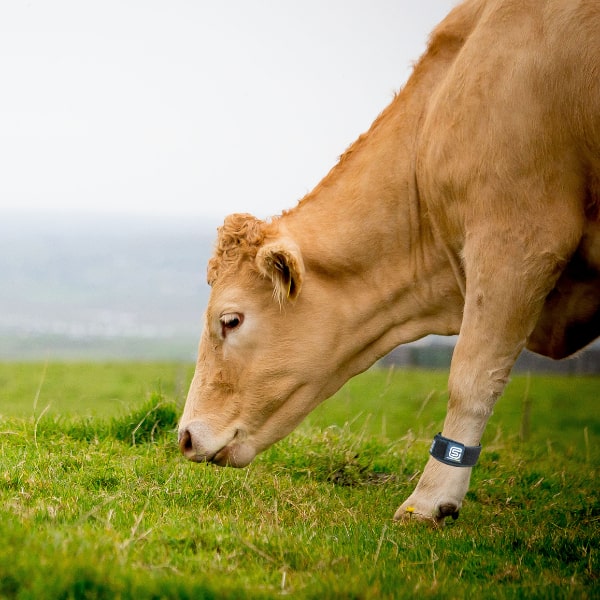 MOO StreamZ Magnetic Bands
MOO StreamZ ® magnetic bands introduce a new technique in magnetism for calves, cows and bulls – '360º resonance technology' or Advanced magnetism.

MOO StreamZ ® revolutionary approach to the ever-growing magnetic therapy industry creates a variety of benefits over more traditional magnetic technologies and provides the bovine industry with a new product specifically developed for their animals. 
StreamZ magnetism does not pulse, it spins! This unique process prevents an increase in temperature allowing the bands to be worn by the animal for long periods of time, 24x7 and without negative side effects. 
Magnetic therapy has been used for decades to support animals with various joint issues, tendon and ligament strains, laminitis, mastitis, lameness, splint injuries, ringbone and much more. MOO StreamZ provide an advancement in traditional magnetic approaches and create results which speak for themselves. 
StreamZ magnetic bands are easy to manage and maintain. They are ideal as a complementary treatment for both immediate support when reacting to a cow or bulls injury or as a preventative measure. Developed to provide full-body-effects.

The robust yet lightweight neoprene sleeves wrap snuggly around the animals metacarpus bone, on either front or back legs (or a mixture of both) and are fully adjustable to a maximum of 35cm to fit all calves, cows and bulls. Once fitted, to keep the bands clean, we advise that a few layers of tape or bandaging are wrapped over the bands. 
Unique design
MOO StreamZ Magnetic Bands
Non-invasive magnetism

Suitable for 24x7 use

Creates no heat

Use on front or hind legs

Targets whole body

Joint care & mobility

Suitable on swelling

Preventative support

Complementary treatment

Used by professionals

Clinically tested technology

Easy-to-fit & maintain

Manufactured in the UK
StreamZ for Cows & Bulls
MOO StreamZ magnetic bands introduce a new technique in magnetism for the bovine industry – whether for calves, cows or bulls.
Traditional magnetism has been used on animals for many years often found stitched into collars, boots or rugs. Magnetic therapy has claimed to support conditions such as joint conditions, ligament or muscle injuries, laminitis, navicular, splint injuries, ringbone, windgalls and many more health conditions. Their pulsating magnetic process has achieved limited clinical support and the reputation in using these traditional magnetic devices on various health conditions is mixed. 
StreamZ unique low-impact magnetic approach changes how magnetic fields are deployed allowing them to be used for longer periods of time.
Disadvantages in using traditional magnet devices include the inability to leave them on whilst through turn out due to the heat created by their pulsating effect. This increase in temperature prevents their use directly after competing or exercise, limits their application time and can be difficult to manage. StreamZ advanced magnetism is different, it spins!
A New Magnetic Approach
MOO StreamZ advanced magnetic bands contain a continuous strip of StreamZ magnetised silicone, creating a 360º non invasive energy field which spins around the animals leg.
StreamZ revolutionary approach to magnetism creates no increase in heat and are suitable for use on either front or back legs. MOO StreamZ bands can be worn long-term, 24x7, and in all weather conditions.

MOO StreamZ bands are easy to manage and a provide an affordable and long-term solution to support a variety of conditions in cows and bulls. 
Each pack contains two bands to be worn by one animal; comfortably wrapped around their metacarpus bone on either fore or hind legs and worn for 24 hours per day.
Although worn around the animals legs, StreamZ unique magnetic technology helps stream minerals across the system creating the 'StreamZ effect' throughout the body.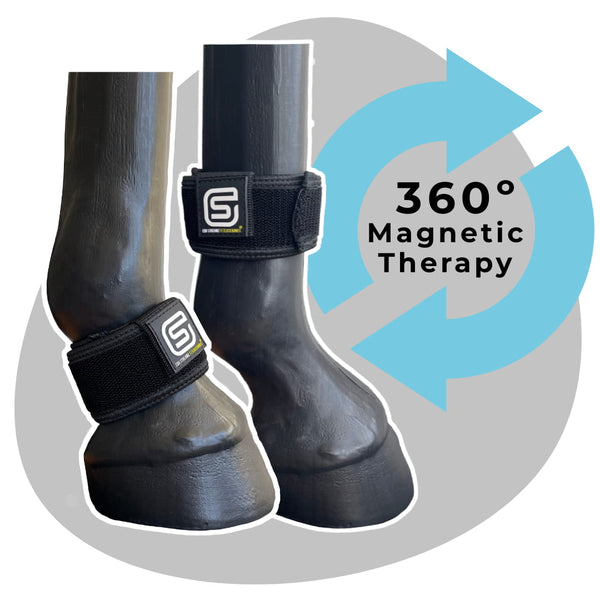 We have seen wonderful results on using the StreamZ technology on one of our lame bulls. Within a few days of having his bands on he was sound and back to work again. We have also seen results on using the bands on a calve who was stepped-on after birth and made a full recovery!
Endorsed by the best
StreamZ Global, manufacturers of the MOO StreamZ bands, have been working with animals for many years. Our equine product is one of the leading magnetic products in the equine community, endorsed by World and Olympic champions and used by over 30,000 horses.
Our MOO StreamZ bands have been developed following several clients using our equine bands on their lame bulls and cows - with remarkable results.
Alongside our equine rage, our DOG StreamZ magnetic collars are also a leading brand within the canine magnetic therapy industry. Our bovine product may be new to market; but our understanding of the impact our technology has on animals is not new!
24x7 Magnetic Therapy
One disadvantage of using traditional magnetic technology is the limited period of time in which they can be used, often due to the thermal increase created by their pulsating magnetic action. This has traditionally prevented the use of magnetic products within the bovine industry as the ability to remove them and then refit them each day is a prohibitive challenge.
StreamZ Advanced Magnetic approach to magnetic fields generates no increase in heat, unlike with traditional magnets found in boots and rugs. This non invasive approach allows the bands to be worn 24x7. Simply wrap the bands around two of the animals legs, add a little tape/bandages over the bands to keep them clean and off they go!
Treating Lameness Naturally
Many farmers and breeders are faced regularly with lameness in their herds of cows or their bulls.

A bull with lameness in his front or back legs may not be able to get to work. A dairy cow with mastitis or showing signs of lameness may not be able to produce highly-quality milk or a calve stepped-on by his mum just after birth may not make it!

Many farmers are now being encouraged to reduce antibiotic use and with the cost of anti-inflammatory medications and antibiotics rising many farmers are looking at more natural and long-term options. StreamZ can be used by all farmers, including organic farmers.

Authorised Retailers of MOO StreamZ